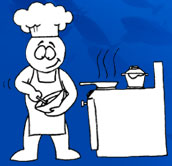 What's your favorite way to cook up shrimp?
There are probably 1000's of ways to cook shrimp. And we all have our favorite recipes. What's yours? We would love for you to share your recipe with us.

Send us an email with your favorite shrimp recipe and we will post it on our site.

Send your recipe to: chris@pearlbrandseafood.com
All of our recipes are printer friendly. Just click on the recipe to view it and if you like it simply use your browser's print button to print it out. Cook and Enjoy!

We hope you enjoy these recipes as much as we have!

Ginger and Garlic Shrimp, China Royal
Shrimp and Crab Stuffed Mushrooms